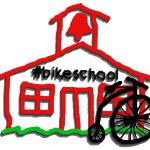 Tonight is the third edition of the
Thursday Night #Bikeschool
session on Twitter. I'll be playing moderator this week and I've chosen to go with a theme….#cycling #Inspiration
Here's what you need to know…
Have FUN
Login to your Twitter account from 9-10p EST
Use the hashtag #bikeschool in your tweets
If you are using TweetDeck just click on #bikeschool from any tweet. add a column to follow the discussion
Or follow along using this

Twitter Search link
Or this TweetChat link is another option (there are probably more options)
You might want to let people know your tweets will be a little crazy during the hour. Something like: tweeps, I'm heading to #bikeschool chat so just ignore my crazy tweets the next hour… or better, join in herehttp://bit.ly/9imv1H
The moderator will come with a few questions… Q1, Q2, Q3, etc. If your response begins with Q1, Q2, Q3 it will help us all follow along
Feel free to have side conversations, ask other questions, stir it up and most importantly help @lovinthebike and I throw at least a couple heckle tweets towards @bikerly.
Enjoy!!
Oh, and be ready - this week there could be a reverse pop-quiz, I could be asking anyone for a question at any time...